Smeg Nordic invests in new warehouse for Nordic market
14/06/2021
Smeg Nordic is in a strong growth phase and plans to expand its storage capacity to meet increasing customer demand. Smeg Nordic currently has its warehouse in Löddeköpinge, but by the end of the year the new warehouse will be located in Malmö Industrial Park , a new area in the city's harbour. Project developer MG Real Estate has just started building in a new part of Malmö Industrial Park in the city's northern harbour. The new project is called "MG Park Malmö" and extends over 6.6 hectares, where the real estate company plans to build warehouses totalling 42,000 square metres, part of which will be occupied by Smeg.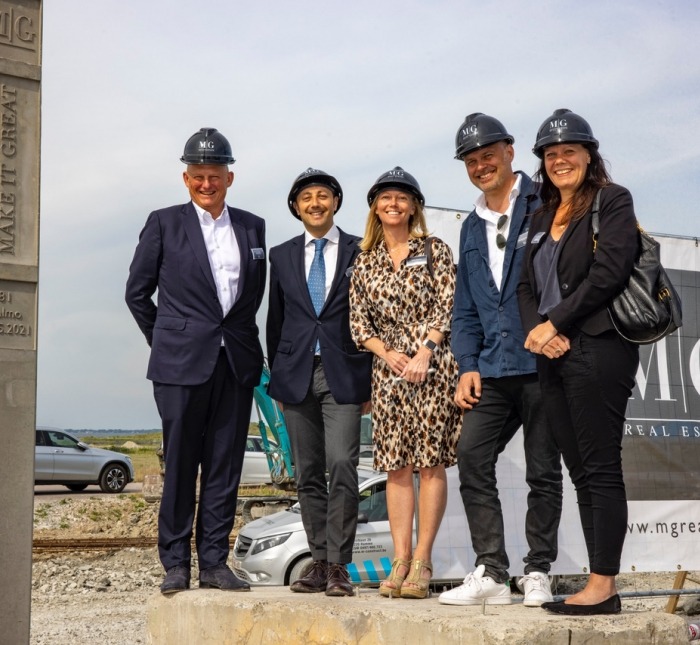 The first seven-tonne concrete column was symbolically placed on site at the beginning of June and represents the start of construction of MG Park Malmö. In a few years' time, this logistics hub in Malmö Industrial Park will be completed, consisting of several warehouses with linked, modern offices.
Although construction has only just begun, Smeg Nordic has already signed an agreement with the developer and will be the first company to move into the new buildings.
"In December we will take over our new warehouse at MG Park Malmö, which is scheduled to be operational early 2022. This exciting initiative will contribute to greater efficiency in our operations while reducing our carbon footprint. Not only because of the strategic location, modern design and sustainable approach of the business park, but also because of the good match between our two organisations. During the process it became clear that MG Real Estate and Smeg share many of the same values, such as a strong focus on service, quality products and integrity," says Ulrika Theander , Managing Director of Smeg Nordic.
MG Park Malmö is strongly committed to sustainability, an important aspect for MG Real Estate. The building will be BREEAM-certified, the world's leading method for assessing the sustainability of buildings.
"When we saw the opportunity to acquire this 6.6 hectare plot, we immediately seized our chance. The site at Malmö's North Port is a logistics hotspot: it is close to the E20 and E6 motorways and well served by both freighters and trains. We are delighted to have entered into a long-term lease agreement with an equally strong family business and look forward to officially welcoming Smeg to our state-of-the-art facilities," says Christopher Thomsen , Commercial Manager at MG Real Estate.