Yusen Logistics Benelux and MG Real Estate develop a new ultra-modern pharma and healthcare warehouse in Gembloux
12/05/2022
Yusen Logistics, a global logistics service provider in air freight, ocean freight, international road transport, storage, warehousing and supply chain management, and MG Real Estate, a European high-speed developer within logistics, offices, residential and retail, will soon start the construction of a new state-of-the-art pharmaceutical and healthcare warehouse in Gembloux (Wallonia). The site on which this European logistics hub will be developed is located in the Crealys® science park, which is managed by Namur's development agency, BEP Expansion Economique.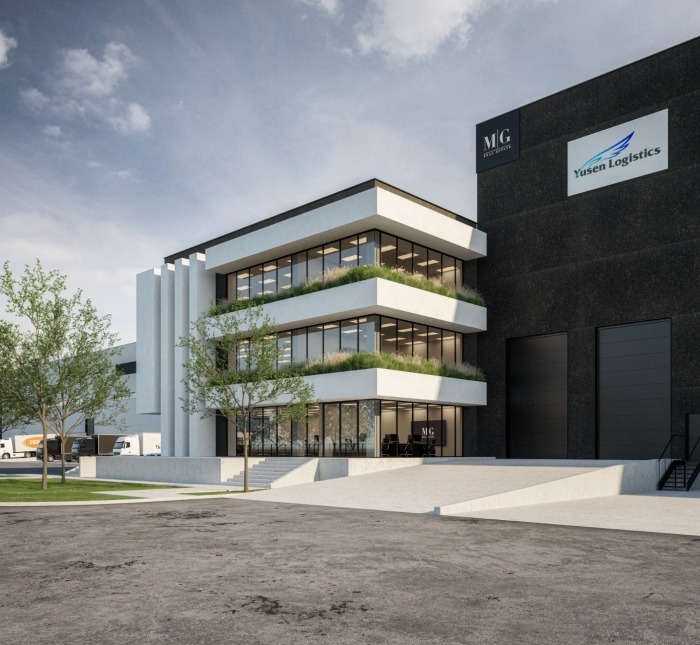 highest sustainability standards
Yusen Logistics Benelux will open a brand new, state-of-the-art automated pharma and healthcare GDP certified warehouse in Gembloux, southern Belgium in 2024. The project will consist of two separate buildings, next to 1,500m² of hazardous goods storage, there will be a variable temperature warehouse of approximately 39,000m². The building will be equipped with a range of automated solutions such as AMRs (Autonomous Mobile Robots) and AGVs (Automated Guided Vehicles) as supporting technologies in order processing.
High speed developer MG Real Estate ensures that the new warehouse will meet the highest sustainability standards. The building will be BREEAM certified and FM Global compliant. Other features include solar panels and charging points for electric cars and bicycles.
GSK's ambition is to consolidate and centralise its Belgian vaccine logistics activities at this new location. The remaining space at this site in Gembloux will be accessible to other healthcare customers.
GSK moved into the Crealys® science park back in 1997. The BEP Expansion Economique provides practical support for the implementation of this investment and is therefore particularly proud to welcome this development to the province of Namur.
Bruno Jacques, Managing Director of Yusen Logistics Benelux: "This new warehouse underlines our strategy to further develop the pharma and healthcare activities within Benelux and Europe. This warehouse will be quite unique within Europe as it will host all the different tempature storage requirements and this in large quantities combined with different types of automation, and all of this at the highest quality and HSES standards. We are a strong and professional healthcare Logistics specialist that offers customers unique added value in their supply chain through an increased focus on quality and HSES, lead times, service offering and cost efficiency. We are grateful to our customers for their confidence in our services and entrusting us with their products. I highly appreciate the contribution from our business partners and MG Real Estate. As well as the support from our subcontractors. A special thanks goes to BEP Expansion Economique, représentée par son président, Jean-Marie Cheffert, et son PDG, Renaud Degueldre, for their important contribution in making this development possible. I look forward working with all parties involved to make this new project a huge success!"
Emmanuel Amory, the recently appointed Managing Director of the vaccines division for GSK in Belgium: "We would like to thank all Yusen Logistics employees for taking up this particularly important challenge for our organization. Indeed, the construction of this large-scale new logistics center, at the cutting edge of technology and respecting the latest environmental standards, will not only allow an impressive storage space with variable temperatures depending on our vaccines, but will also be the hub for exporting millions of our vaccines around the world. Thanks to this partnership, we will be able to distribute our vaccines more quickly to people in more than 160 countries, while reducing our CO2 emissions. This large-scale project, unique in the region, once again demonstrates GSK's intention to strengthen the biopharmaceutical ecosystem in Belgium, and at the same time consolidates Wallonia's place at the top of logistics."